One of the most exciting and daunting tasks when I first decided I wanted to homeschool my kids, was coming up with a homeschool schedule. I, of course, headed over to Pinterest to see other people's schedules and tried copying them. However, I quickly learned that other people's homeschool schedules just didn't fit our family. It's so important to create a schedule that works for your individual home, kids, and schedules. So I am going to go over how to create a homeschool schedule that works for you.
Schedule What You Know
Personally, I plan my homeschool schedule weekly, not monthly but that's a personal preference. I have an idea of the unit or goals for the month, but I don't actually plan a full month. With homeschool, life is always changing for us week-to-week, so weekly scheduling is best for us. With that being said, I have created a simple FREE weekly calendar for you to print out and use for this task.
So first things first, take your weekly calendar and fill in all the things you KNOW you have going on. This includes doctors' appointments, events, grocery shopping days, library days, co-op events, and anything else that is more set in stone. When you know what you already have going on, you're better able to schedule class time around that.
Block Scheduling is Your Friend
If you haven't heard of block scheduling before it is the best! It helps you visually see the time you have, which gives you a better idea of what you can actually accomplish that day. You've already blocked out what you know, now you can easily see what days you have more time and when that time is. This will help you schedule and plan out your school week! I personally block by subject or activity. I don't plan in detail, but that's a personal preference. Feel free to get as detailed as you want in your planning! I've included an example of how I block plan my week to give you a better idea and maybe some inspiration.
Plans Change and That's Okay!
The greatest part of homeschooling is the flexibility! So don't be upset or mad at yourself if plans change. It's okay! Reevaluate your week each day, push things back, move things around, cancel them, and don't beat yourself up if things change. That's one of the reasons I like block scheduling because you put down how much time something will take, but it doesn't mean it will take that long, or it could be even longer than you planned. The fact is life happens, and it's okay!
Individual vs Group Schedules
Personally, I am only homeschooling my daughter at the moment, but I know eventually my son will join in on the educational fun. I do have educational activities for him, but it's mostly coloring and things to keep him entertained. That way I can focus on working with my preschooler. However, I know for a lot of homeschool families, there are multiple kids/grade levels. If this is you, I would have an overall weekly plan for the group as a whole, and individual weekly schedules as well.
For your group schedule block similar subjects together. So for example in reading/writing, math, STEM, History, etc. However, for individual planning print out a schedule for each kid, that way you can write down in more detail what each kid will be working on. This will help you stay on track for each child, but also have the ease of not jumping from subject to subject all at once.
The main lesson is to create a schedule that works for your individual homeschool classroom. Taking into consideration your day-to-day life, your unique kids, and their unique needs. But also in life! The beauty of homeschool is that it's customizable, flexible, and allows for a bit more educational freedom! You're not bound to a set schedule, you're in charge of creating the best schedule for you!
If you're anything like me, I am a planning queen! lol, I love planning, calendars, agendas, breaking out my highlighters, and going to town. I also love learning about how others plan! So if you are a planner freak like me I would love to see how you go about planning for your homeschool classroom! I'm always on the lookout for new ideas that I can add to my personal planning style!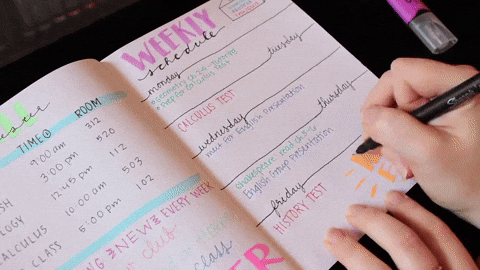 Written by: Brittany Coleman
Thanks so much for stopping by! If you enjoyed this post, we'd love it if you could share Education to the Core with a friend, and BOTH of you can receive $5 off a purchase of $10 or more with the code: FRIEND5.
At Education to the Core, we provide done-for-you curriculum that is simple, fun, and engaging! In order to be an effective educator, you have to take care of yourself first! We strive to make a healthy work-life balance a reality for you each and every day.
If you enjoyed this blog post, be sure to join my email list to get exclusive FREEBIES, exclusive content, updates, deals!
Comments
comments