Have you ever smelled some peculiar odor coming from a backpack before?  What if I asked, have you ever observed a backpack move before or heard a strange sound coming from inside?  As teachers, we all have our own crazy and even hilarious stories of what we found inside of a student's backpack!  
Over my thirteen years in Education, I've smelled and seen some wild things coming from students' backpacks.  The options are endless, from spoiled food to those "treasures" students find on their way to school.  One of my personal favorite finds was the student's grandmother's dentures.  It was in November, and a few of my students were still bringing in and wanting to wear their "vampire teeth."  Remember those plastic inserts that represent a vampire?  Well, this student wanted to join in the fun… so he brought in his grandmother's dentures! 
We asked our fantastic Teaching Trailblazers from our Facebook groups, "What was the craziest thing a student snuck inside of their backpack to bring to school?"  Our Fearless First Grade Group, Fearless Kindergarten Group, and our Fearless Second Grade Group did NOT disappoint!  
Before jumping into this hilarious list, a disclaimer, this list includes some adult humor and some inappropriate items that may be considered weapons.  By no means does Education to the Core or myself find humor in a possibly dangerous situation or young children having access to items like these.  We included them in this list because it does occur in schools nationwide. Teachers may have to deal with an inappropriate or dangerous object.  It is best to follow your school's policies and follow the chain of command when dealing with situations like these. 
100 Crazy Backpack Stories
"A frog!" ~ Jennifer F.
"A lighter in the shape of a male body part.  Her mom had gotten it as a gag gift at a bridal shower.  She was mortified when I called her!" ~ Katie F.
"Flask for their water bottle." ~ Amy N.
"A large frozen pizza for lunch. He said his mom made him pack his lunch and it was all he could find!" ~ Kelly S.
"A baby bird." ~ Tiffany R.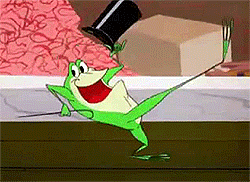 "Grilled corn on the cob." ~ Lindsey B.
"A snake in a jar!" ~ Susan B.
"Frozen (like out of the freezer) underpants." ~ Katie L.
"Dad's Playboy magazine." ~ Donna B.
"A Gecko" ~ Amy W.
"A Cat" ~ Kim H.
"Stun Gun" ~ Shantel K.
"$1000 cash that smelled like recreational leaves.  He found it in the cushions of his couch." ~ Olivia S.
"A turnip for show and tell." ~ Chelsea M. 
"A guinea pig" ~ Jessica B.
"I had a child bring in their mother's black thong." ~ Jeanne T.
"My first-grader brought a stray cat in his backpack…on a 2 hour delay day." ~ Molly W.
"A dinosaur bone! (A chicken leg bone with some of the crunchy stuff still on it)!" ~ Chris K.
"Part of a deer's leg, with fur still on it." ~ Vivian S.
"Mom's purse with a picture included of her in lingerie and a little "toy"." ~ Jessica T. 
Oh My Goodness, That Smells!
"An uncooked egg." ~ Daron L. 
"I had two first graders bring a knife to school on the same day, handcuffs, and a week-old bottle of chocolate milk that finally worked itself open in the classroom." ~ Susan A.
"40-ounce bottle of beer" ~ Carmen C.
"Pet rabbit.  The whole class knew it was in her backpack and waited till lunch before somebody whispered in the teacher's ear!" ~ Tammy P.
"A vibrator" ~ Lisa S.
"Her grandma's whole sausage for the class party!" ~ Tonya H.
"Professional cooking knives." ~ Amanda L.
"Their pet hermit crab that got out of the backpack!" ~ Misty B. 
"A dead squirrel that she was hoping we could bring back to life." ~ Beth M.
"Dead goldfish." ~ Nicole S. 
"A baby bunny he found at the bus stop." ~ Michelle A.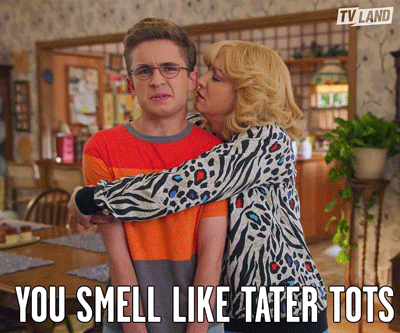 "A beer bong." ~ Samantha L.
"A mousetrap with a mouse inside it." ~ Jared G.
"Brass knuckles and multiple cell phones." ~ Jennifer L.
"I had a kindergarten student bring in a dead bird once. He found it on the way to school and wanted to give it a funeral. The principal and custodian helped him do that once we figured out what the smell was and why it was coming from his backpack." ~ Vicky M.
" A joint" ~ Malena H.
"A dead bird." ~ Hailey C.
"The family-size bag of candy." ~ Jan C.
"A grenade that was his uncle's and then the same child brought a pack of cigarettes he found at mom's work in a coworker's desk." ~ Christina L. 
"Vodka in a water bottle." ~ Amy K.
Why Is Your Backpack Moving?
"Ladybugs…hundreds of them they found swarming in the sun.  They were in a plastic bag with the top unzipped so they could breathe.  The backpack was also unzipped.  Ladybugs everywhere for weeks!" ~ Nora P. 
"A baby turtle he found in the driveway." ~ Daphne L.
"A kitchen knife." ~ Cindy L.
"A dead frog" ~ Mary A.
"A can of Vienna Sausage." ~ Robin A.
"A dead cat and when I called mom to say he brought it to school, she said "I can't believe he found it again"." ~ Jill L.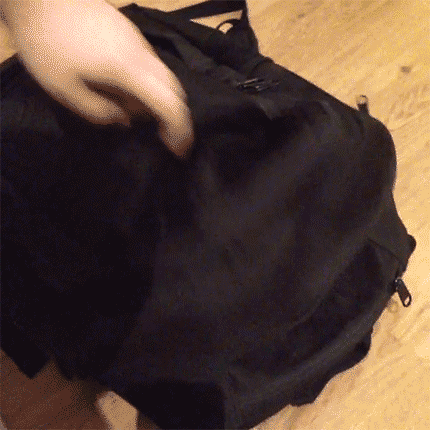 "Holy water in a plastic zip-lock bag." ~ Liza M.
"Two tropical pet fish in a ziplock baggie with no water." ~ Jessica C.
"A box cutter." ~ Johanna V.
"One of their mother's slippers." ~ Donna A.
"Parent's handcuffs and no one was a police officer!" ~ Karen K.
"Mom's pure romance cream!" ~ Amber B.
"Weed and a tarantula." ~ Leslie H.
"Cigarette lighter" ~ Meaghan C.
"Playboy centerfold!  I discovered it because all of the boys kept taking turns to go peek inside the backpack.  As if, I wouldn't notice a line streaming to the cubbies." ~ Peggy B.
"A snake and then on a different day an egg." ~ Stacey A. 
"Deer urine" ~ Kelly B.
"Cockroaches.  Actually, they hitched a ride from the child's home.  It was a great reminder of the situations some of my littles lived in." ~ Janet M.
"A circular saw blade" ~ Karen K.
That Is SO Embarrassing!
"A tampon!  An old school cardboard one that he wanted to help his friend pull his tooth!" ~ Jamie W. 
"An unwrapped footlong Dagwood sandwich with onions, peppers and ALL the condiments, ALL the meat like salami and pepperoni." ~ Marcy Z. 
"Garter snake that a child caught at the bus stop, but I thought it was a rubber snake when he asked if he could play with it at recess!" ~ Reesa V.
"A coyote skull that still had chunks of fur…AZ life!" ~ Cindy G.
"Marijuana in a pill bottle!" ~ Tina T.
"A mouse…and it escaped." ~ Rose W. 
"Their Mom's thong!" ~ Suzanne M.
"I had a student try to sneak a goose egg that he found at recess into his backpack. He wanted to take it home and be its' mom when it hatched." ~ Angie T. 
"A grenade" ~ Candy S.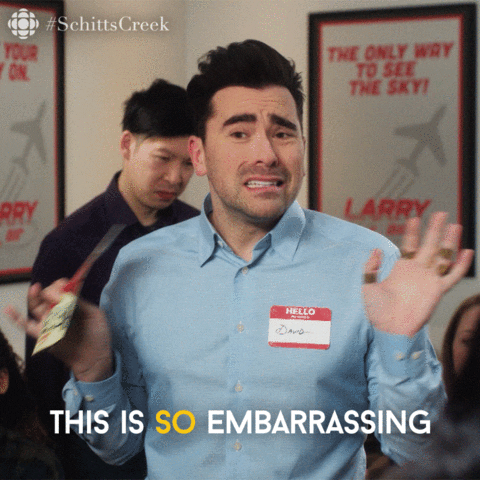 "An adult DVD" ~ Nikki S.
"Their dog's cremated ashes!" ~ Patrice C.
"Two raw eggs. They didn't make it, so guess who got to clean it up?" ~ Jennifer R.
"A beer, a mouse, a knife, and a tomato…not all by the same student." ~ Shelley S. 
"Debit card" ~ Melissa L.
"Live snails and worms." ~ Jael M. 
"$500 and she began passing it out to her friends." ~ Jalilah W. 
"A lunch box with 11 apples surrounding a can of beer." ~ Courtney C.
"My favorite – one of my students brought a baby alligator inside a cut-off gallon milk jug." ~ Susan L. 
"The family cat" ~ Heather H.
"A bullet" ~ Emily M.
Their Families Were Mortified!
"Mom's "floppy pen"… it was a blue adult toy." ~ Marsha D. 
"A pint of ice cream…a whole bottle of Hershey's chocolate syrup. (different kids, different days)" ~ Karis M. 
"His mom's wedding ring so we could be married." ~ Kathie H.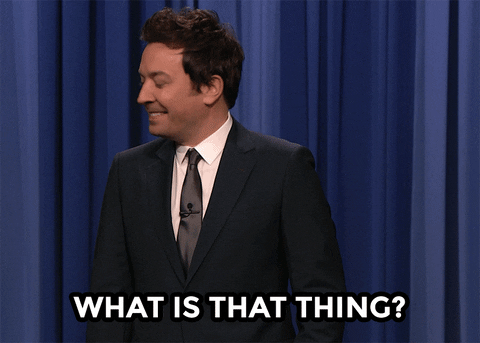 "Condoms and cocaine…or as they referred to them as "balloons and pixie dust." ~ Jana S. 
"A snowball" ~ Shawn G.
"My very first day of teaching, one of my fifth graders brought in a scorpion.  I'm just glad it was in a jar." ~ Susann T. 
"Dead squirrel in a glass jar." ~ Andrea L. 
"An ice cream sandwich." ~ Amye H.
"A baby rattlesnake." ~ Becky S.
"Jar of hot fudge sundae topping, with no lid, just a spoon from home." ~ Jessie L. 
"A beer that spilled all over my room and made the room smell like a bar!" ~ Allison F. 
"A young chicken" ~ Callie L.
You Brought In What?
"A check written out in pencil for $200.00 for snack money.  The kid actually did a pretty decent job writing out the check!  It was a second-grader." ~ Debra T. 
"Their parent's phone" ~ Beverly W.
"A dead bat (in a ziplock).  Brought it out during the morning meeting." ~ Ty K. 
"A lizard, which he let go in the classroom." ~ Erica T.
"I had a student try to sneak a goose egg that he found at recess into his backpack. He wanted to take it home and be its' mom when it hatched." ~ Angie T. 
"His mom's toy that started vibrating.  The vibration is what made me check his backpack in the first place." ~ Brandi R. 
"A beer!" ~ Lisa R.
"A snow globe…it shattered." ~ Kristen F.
"$275, in an envelope marked electric bill.  He wanted to use it for a snack." ~ Kathy B. 
"A live frog dressed in Barbie (Ken Doll) clothes." ~ Sandy F. 
Thank you so much for all our Trailblazers that provided those hilarious and crazy backpack stories!  Do you have an item that would fit this list?  Let us hear in the comments below!  Remember, you never know what your students are walking through the door with!  Be prepared to stay on your toes and laugh along the way!
Written by – Christopher Olson
At Education to the Core, we exist to help our teachers build a stronger classroom as they connect with our community to find trusted, state-of-the-art resources designed by teachers for teachers. We aspire to be the world's leading & most trusted community for educational resources for teachers. We improve the lives of every teacher and learner with the most comprehensive, reliable, and inclusive educational resources.
If you enjoyed what we have to offer at ETTC, be sure to join our email list, so you won't miss a beat.
Comments
comments