If you're reading this, you are important, and this is your sign to take care of yourself. Realistic self-care ideas for teachers are hard to come up with sometimes. Time is hard to come by, and self-care can get pricey. 
 It's hard to get teachers to remember to take care of themselves. But mental health is important, and so are you. Taking time to take care of yourself doesn't have to mean a week-long trip to the Caribbean or a full day at a high-end spa (though I'm sure none of us would mind those options). 

With the days getting shorter and the nights getting longer, things are getting harder — harder than most of us let on. The newness has worn off, and the reality of the school year is beginning to show. Patience is becoming a little harder to come by, and weekends are not nearly long enough. 
Mental health is important. YOU are important. With busy school and personal lives, it's easy to lose track of what is a luxury and what is a necessity. So often, we choose to compromise our health in favor of getting stuff done. It's hard to commit to taking care of ourselves. It feels selfish and unproductive.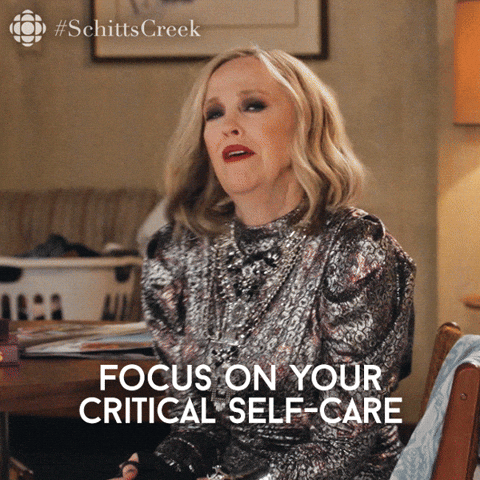 Trust me; I am guilty of choosing work over myself. I have literally been in the car on my way to the gym and have gotten a message and asked to help with something for work and have chosen to turn around and help rather than say I can't or ask if I can do it after my workout.
Self-care is not my forte, but it is a commitment I made to myself. I promised I would take care of myself, even if it is just doing little things like stretching before bed or eating at an actual table at least once a day.
We made a list of actual, realistic ways to take care of yourself with that in mind. We are talking about little things that don't cost much and don't take a ton of time. But in the end, will be beneficial for your physical and mental well-being. 
Realistic Self-Care Ideas to Pamper Yourself: 
Pampering yourself doesn't mean you need high-end furs or cashmere sweaters it can be something small, a luxury that is new to you and feels high-end but doesn't hurt your wallet. This is a list of things I have tried or have used regularly. 
These little things are things you can come home to and know that they are yours, and you bought them with YOU in mind. It's more a change in the mindset than the item itself, but the idea is that you enjoy it.
Realistic Self-Care Ideas for Mindfulness Routines: 
Google defines mindfulness as a mental state achieved by focusing one's awareness on the present moment while calmly acknowledging and accepting one's feelings, thoughts, and bodily sensations, using a therapeutic technique.
With that in mind, here are some ideas for mindfulness that do not feel phony.
Journaling: 

Set a goal; write for 5 minutes or write one whole page in a way you feel comfortable. A letter to your future self, a note to your past self, a loved one, or reflect on the day passed or the day ahead. It doesn't have to be good or grammatically correct; it just needs to happen. 

Stretching: 

Yup, just good old-fashioned touch your toes and count to ten kinds of stretching. 

Deep Breathes: 

10 deep breathes in and out. It doesn't have to be a big thing, and you don't need to be in a quiet place or stop what you are doing. Simply focus on your breathing for ten breaths and then move on with your day. 

Pick-up after yourself: 

I know you probably think this is crazy, but organizing has a therapeutic quality. One day spend 5-10 minutes cleaning your desk, then a drawer, and then a shelf. Take it slow like that, one shelf at a time, and do that every day for a week. The time it takes you to focus on cleaning off that one shelf will give you a chance to withdraw from everything else.

Listen to music

: 

Put on headphones, park your car, or ask Alexa to play a song. One song and sit down and listen to the entire thing. Pick something to focus on, whether it is the lyrics or the guitar or whichever element you prefer, but for those 3 minutes, allow your mind to take a break from the stresses of the day and listen to music. 

Reflect

: If it's the last thing you do before you go to bed or while on your drive from work, reflect on the day. What did you accomplish, what are you proud of, and what went well? Focus on the positive and train your mind to look at things just a little less cynically. 
Realistic Self-Care Ideas that Involve Waking Up Earlier: 
Trust me; I know waking up earlier is not even a possibility for some of us. Some of us are running on so little sleep that waking up even earlier would mean we are pulling all-nighters every night.
So, if you are one of those people, go ahead and skip this section because this is not for you. 😄  Or better yet… think about choosing one of these following ideas and make it a personal goal for yourself!   
Drink your coffee while it's still hot: 

Yup, you read that right. Your hot coffee is supposed to be hot. Like actually hot, not just warm, but hot. Wake up 5 minutes earlier. Make your coffee, sit down on the porch, at your kitchen table, on the floor, and pet your dog while drinking your FRESH, HOT coffee. 

Actually, eat breakfast: 

Even if you eat a granola bar, sit down at the kitchen table and enjoy it. 

Skincare routine: 

Using whatever products pair best with your skin, create a pattern for yourself. 

Read (something you enjoy, not the news): 

Download a book on your phone, or read a physical book. Try to avoid the news and social media but make sure you are reading something you enjoy. Set a timer for 10 minutes and allow yourself to enjoy those 10 minutes. 
Community is a large part of self-care.  Not only having support but being heard.  We hear you.  For more support in your day-to-day teaching life, look to your fellow teachers, join the Facebook groups Fearless Kindergarten,  Fearless First Grade Teachers, or Fearless Second Grade Teachers, and lean on your peers for support and guidance. You're never in it alone. 
You can also join Teaching Tiny Humans for emails and support in dealing with difficult situations. Follow us on Instagram, TikTok, and Facebook @educationtothecore for continued information and resources as the season progresses, or listen to our podcast Where the Primary Things Are.
Committing to taking care of yourself is hard, but it is essential to do it no matter how difficult. The process of self-care doesn't have to be a big deal. It can be one or two small things that make a difference. The important part is you. What self-care idea from this list are you going to attempt this week?  Do you have any self-care tips to share with your colleagues?  Let us know in the comments below! 
Written By – Korryna Sanchez
At Education to the Core, we exist to help our teachers build a stronger classroom as they connect with our community to find trusted, state-of-the-art resources designed by teachers for teachers. We aspire to be the world's leading & most trusted community for educational resources for teachers. We improve the lives of every teacher and learner with the most comprehensive, reliable, and inclusive educational resources.
If you enjoyed what we have to offer at ETTC, be sure to join our email list, so you won't miss a beat. We are here to help with all your resource needs. Become a Premium Member of Education to the Core and receive immediate access to thousands of printable activities. For one small monthly or annual fee, everything ETTC can be at your fingertips all of the time.
Comments
comments